About Us - Bream Bay Fishing Charters
Our Story
Bream Bay Charters Limited is based in Marsden Cove Marina. It is owned and operated by local charter fisherman Stephen Martinovich. Our Near New Vessel SUMO is permanently moored at berth C9 in the Marsden Cove Marina, situated near the Marsden Point Oil Refinery. This is just inside the entrance to Whangarei Harbour, Northland, New Zealand. It is only a short 1.5 hour drive north of the Auckland Harbour Bridge.
Bream Bay Charters has been operating for 24 seasons Previosly using the fabulous local charter boat Cara J.
In 2017 SUMO was the new replacment vessel. She is clean, comfortable, safe and solidly reliable. SUMO has been fastidiously maintained over the years  She travels at a quick 13 -19 knots to maximise your fishing time and with room for up to 16 fishing in comfort, she is the ideal fishing platform.
The Skipper
Skipper Steve Martinovich has over 24 years chartering experience fishing locally. He built CARA J himself in his workshop at home in Ruakaka Beach and has been successfully fishing CARA J and now  SUMO in beautiful Bream Bay ever since. He is regularly fishing from the Whangarei Harbour out to the Hen & Chicken Islands, Moko Hinau Islands, along the Tutukaka Coast and everywhere in between. He prides himself on putting his clients "onto the fish" and many of them have successfully won numerous prizes in fishing contests over the years with some wonderful catches, many of which being personal bests.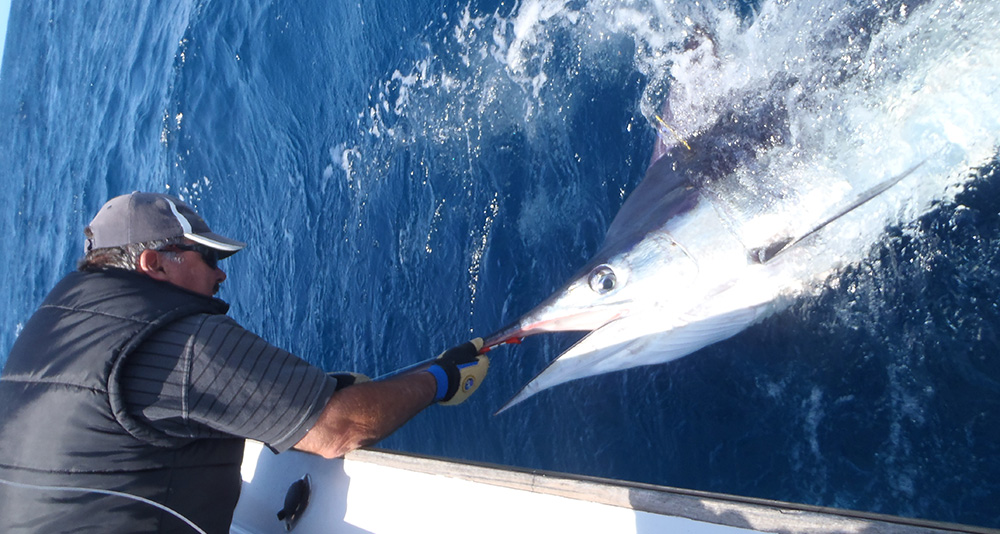 The Trips
Bream Bay Charters offer many trip options, we can tailor one to suit you.
From relaxed 4.5hr twilight evening line fishing trips. Starting at $100 PP
Full day line fishing trips to the Hen & Chickens Islands. Starting at $130 PP
Moko Hinau Islands 11 hour big day trips. Starting at $220 PP
Overnight and multi day trips and contests, tailored to your needs.
All targeting - Snapper, John Dory, Kahawai, Mau Mau, Trevally and Kingfish
Hire rods available
Bait supply available on request
Big Game Fishing adventures & contests. Jan - May (all international tackle supplied)
Targeting - Marlin, Tuna, Sharks, Mahi mahi & Kingfish.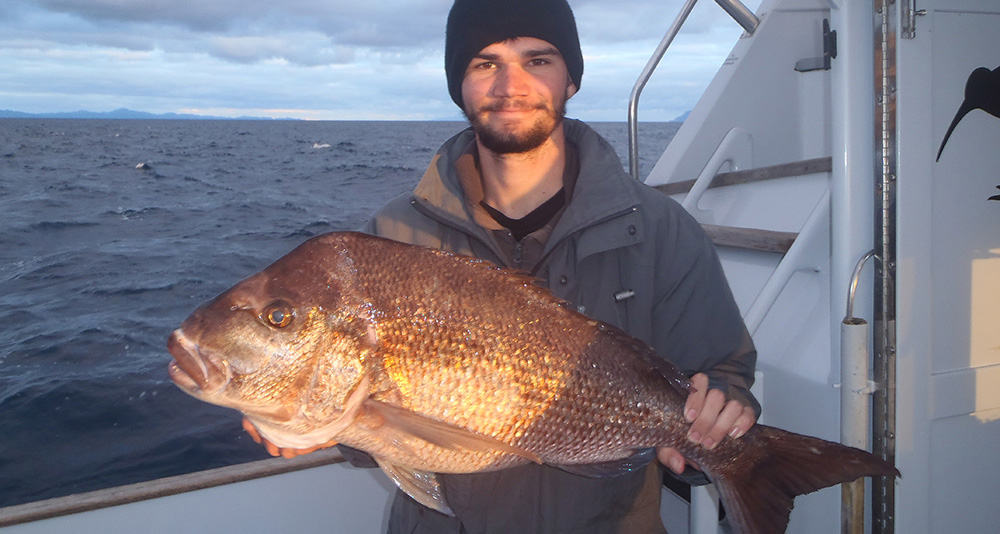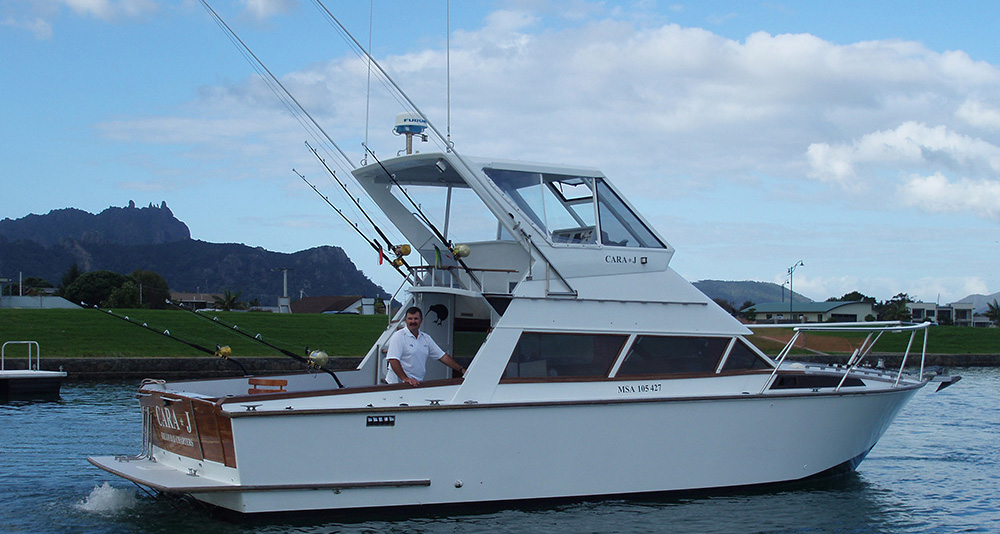 The Boat SUMO
SUMO is a 12 metre long fully surveyed Charter Vessel, has a high speed deep vee planing hull and is configured as a fly bridge style launch, designed to get there quickly, comfortably and safely. She is solidly built to full MSA Survey for 20 passengers in harbour and 15 passengers outside harbour, with lifejackets and all the other required MSA safety equipment aboard.
The SUMO is constructed from solid, locally grown New Zealand Kauri by her proud owner Steve. He started construction on 8/8/88 and he spent three and a half years constructing her. SUMO was launched in February 1992 by crane off the old Marsden Point Wharf at the Manaia steps (now known as the Port Marsden Tug Jetty).
Charters started shortly after and left from the Manaia steps. SUMO has now been permanently operating from Marsden Cove Berth C9 since its opening in 2006.
SUMO has had numerous modifications and additions over the years. She was extended by 1.2 meters in 2004, had a massive 40% increase engine upgrade in 2006, had new bilge keels installed in 2008, the new raised hard top added in 2010 and then all new digital electronic package in 2014. All this was built and installed by Steve under the watchful eye of the Safe Ship Management Surveyors.
Steve now maintains her in tip top condition, always ready for the next fishing adventure. With her high powered diesel engine, she can easily cruise at 13-16 knots and remarkably has even easily deep-water-started 8 water skiers at once.
SUMO has full Electronic Aids including digital Radar, G.P.S., Colour Sounder, EPIRB, VHF radios and Auto Anchor.
She has a large internal undercover cabin area with accommodation for up to 6 guests as well as a full galley, dinette and lavatory.
SUMO has good quality line fishing rods and reels available for hire. She is also Big Game rigged with International Tackle outriggers and game chair. She features an extra-large fishing cockpit, with ice boxes and bait stations and a BBQ.